When oldest daughter, Katie, and her family visited us during the winter, we made a concerted effort to get some family pictures done. During the last visit, a year ago, we didn't get to take some until the last evening before our son-in-law Nathan was scheduled to leave. It was
late
in the evening and
this
was the result.
This time I herded and corralled the kids together on an afternoon during a break in the dismal winter rain and we had some fun with Kris' camera.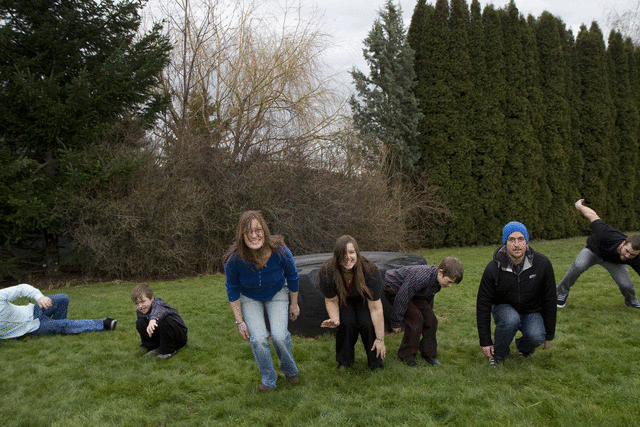 Forget about getting seven kids to smile pretty for the camera. It works better to just let 'em be kids.
But of course, someone's timing had to be off every time.
Just so you know, I think we took hundreds of these to come up with just one decent photo!
But we squeezed in one traditional shot. Here we are-
My Family
Kris, Ted (aka Mr. D.), Pam (aka Clayvessel), Seth, Nathan, Katie, Neal and Alyssa
Little boys in front are Samuel, Peter, Jonah and Baby Evan.